It's that time of year here in the Vegas valley where we have 2 or 3 weeks of wonderful weather.   Time to enjoy to outdoors.   I've spent the spring and summer working at a painfully slow pace on my coop and garden project.   Seven months into it, I've finally finish the wood working part of my project.  The coop and aquaponics pond and garden bed are built along with the patio cover.
You can see the pond cover/bench seat now completed and in place above.
I've also put grass back in the small area by my planter.   The chickens have loved the addition.  When I first put the grass in, I wondered what I was going to do about keeping it cut since I had given away our lawn mower.   This turned out to not be a problem.  The 4 chickens have kept the grass perfectly manicured.  I let them out every afternoon for a few hours.  In turn, they keep the garden bed clean of weeds and the soil gets turned everyday along with a daily grass trimming.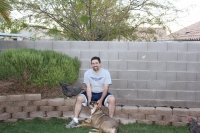 The girls have figured out the whole laying program.  We are averaging 3 eggs a day.  Occasionally we get 4, sometimes 2, but most days we get 3 and they are always in the next boxes now.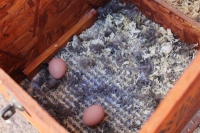 I hope to soon complete the entire project.   Only a little plumbing and electrical is left along with putting the gravel in the garden bed.   I'll begin now with the rest of the yard clean up and any additional landscaping to blend it all in.
This is the bell siphon I built which is used to drain the garden bed water back into the fish pond.